Written by: Gaby Burt-D'Agnillo BSc Nutrition Candidate
Reviewed by Andrea Miller MHSc, RD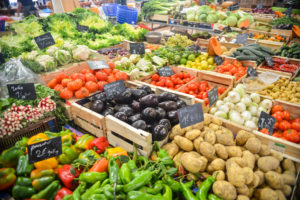 The grocery store is essentially the foundation of our diets. It's where we discover a variety of healthy, colourful, and nutritious foods to feed ourselves and our families. With a few resources and some of our favourite tips grocery shopping can be efficient as well as healthy – so let's review five easy tips and tricks for getting the most out of your supermarket experience.
Plan it out and write it down.
Before you leave the house, take some time to plan your meals for the week. Then create a grocery list of only the foods and ingredients you'll need to make those meals, plus healthy snack options including fresh fruit and vegetables or nuts and seeds. Creating a list beforehand ensures you won't forget anything while you're shopping, and it may prevent impulsive  purchases – items that can be high in fat, salt, or sugar.  Your shopping trip is sure to be smooth if you come well prepared.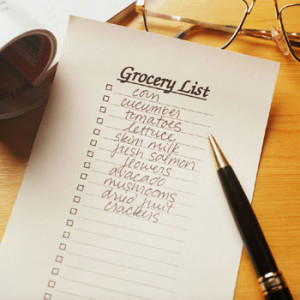 Shop the flyers!
Everyone loves getting a good deal, right? While you plan your meals and create your list, check nearby sales and grocery stores that offer price matching. The difference between getting your groceries at sale price and full price can be significant. Using flyers, coupons, and a budget can help you stay in line with your purchases and help save money. Read here for helpful tips about meal-planning on a budget.
Follow simple shopping rules.
Pick up your grocery items from the perimeter of the store, where items like fresh fruits and vegetables, dairy products, meat, and fish can be found.
Choose "real" foods with as little processing and as few additives as possible.
Limit highly processed foods, as much as possible. Pro Tip: Ingredients are listed in descending order by weight, so look for wholesome ingredients listed first on the ingredient list. Here's a great blog post for tips on reading nutrition labels.
Buy in bulk and cook at home.
When you find a good sale at the grocery store, pick up extra! Make double the size of your dinner recipe and freeze the leftovers in individual containers so you have a quick meal for another day. Some benefits of cooking at home include cooking what you want, cooking on your own time, and having control over salt content and portion sizes. Be creative in the kitchen and try something new!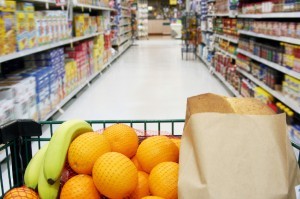 Shop your preferences
Make sure you and your family will actually eat the food you buy. Purchase foods you know you enjoy and fill your fridge with healthy ingredients that get you excited about cooking. Find inspiration by visiting farmers markets and eating what's in season – read here about all the local food Ontario has to offer.
Leading a healthy lifestyle starts with you. It's helpful to plan with friends and share your experiences to stay motivated. Use these tips and discover a new approach to how you buy food and the ways you cook it at home. Next time you're in the grocery store, remember what you've learned here and run with it down Aisle Five!
Want more tips for effective shopping? Check out unlockfood.ca!