Written by Laura Chimenti Bsc (cand.)
Reviewed by Andrea Miller MHSc, RD, FDC
Summer, for many is the most awaited time of the year, and with summer often comes barbecues and patio drinks. It can be easy to fall off track of a healthy lifestyle when summer rolls around but eating healthy and staying active in the summer doesn't have to be hard; in fact, it can be fun! Keep reading to learn some tips for healthy living in the summer.
Start Your Own Fruit and Veggie Garden
Fruits and vegetables are an important part of our diet. Consider starting your own garden!
Starting a garden may seem like a daunting task, but there are many resources available online to help you. If you are unsure where to start with your garden, check out one of our other blog posts to get started: http://amillerrd.ca/gardening-tips-for-beginners/
With your own garden, you'll have a constant supply of fresh fruits and vegetables right in your backyard (or front yard)! This can also be helpful in reducing your number of trips to the grocery store, which for many may currently be very important with the Covid-19 pandemic we are facing.
If you still want to limit your exposure to Coronavirus with grocery shopping but don't have the option to make your own garden, check out your local farmer's markets! Farmer's markets are a great option as the produce is fresh and locally grown, and they are usually located outside, where the spread of Covid-19 is reduced.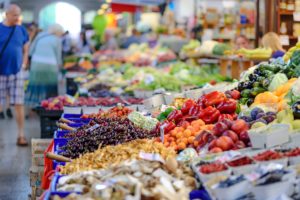 Stay Hydrated with Water
On a hot summer day, it can be tempting to reach for an ice-cold beer or a fruity cooler, and while these options may not appear to be so bad, they are loaded with empty calories and sugar. Also, while these drinks may taste refreshing, they actually dehydrate you more!
Often, feelings of thirst are confused with feelings of hunger, leading people to eat instead of drink.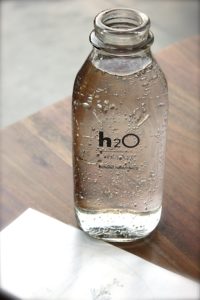 There are many great options for low/no sugar mocktails! One of my personal favourite mocktails is a faux-jito (Faux Mojito). To make this light and refreshing drink, muddle some mint, lime and stevia, then top it off with some club soda and lime juice. Another great option is adding some fruit to plain or sparkling water.
Load Up on Delicious Summer Salads
One of my favourite parts of summer is delicious summer salads. Here are three of my favourite salad recipes, with modifications to make them even healthier, but no less enjoyable.
Pasta salads are great for the summer. The dressing used in this recipe is creamy and delicious, and provides protein and calcium, from Greek yogurt.
Instead of using only mayonnaise as it calls for, I like to use half plain Greek yogurt and half low-fat mayonnaise instead. Not only is this still just as delicious as the original dressing, but it cuts the fat down and increases protein content!
Cooled quinoa in salads is another summer staple that I regularly enjoy, and this recipe needs little to no modifications. I  recommend adding some more fresh veggies such as bell peppers, cucumbers, tomatoes or any other vegetables you enjoy.
Strawberry Spinach Salad with Chicken and Avocado
This salad is so refreshing and packed with nutrients! The protein, healthy fats, vitamins and minerals that this salad provides will you keep you satisfied and energetic for your summer activities.
Tips for Social Distance Gatherings (When Food is Involved)
Summer is usually a time for getting together with friends and family, and with this usually comes the sharing of food.  However, due to our current circumstances with Covid-19 this has become much more difficult. Now that we are able to gather in groups of up to 10 people, these gatherings will become more frequent but it's important to stay safe.
In terms of food sharing, if you're having guests over, instead of having your veggies and dip (or other delicious snacks) in one communal platter, try separating the foods into individual portions. This is a much better option than having everyone touch the same food and congregating closely around the finger food table, increasing your risk of exposure.
If this isn't an option, each person could even bring their own pre-prepared appetizers/snacks so you're the only person touching the food you're going to eat.
Summer is a fun and relaxing time; maintaining healthy habits can be easy, satisfying and fulfilling. Check out our Twitter feed for a new tip regarding healthy eating and cooking every day this month!