Written by Gaby Burt-D'Agnillo, BSc Nutrition Candidate
Reviewed by Andrea Miller MHSc, RD
When the year comes to an end, we enjoy spending our holidays in the company of friends and family. Nothing brings people together better than food! As we prepare for cheerful parties, heart-warming meals, and festive drinks, it's important to remind ourselves of a few key strategies for healthy eating. This month, we're bringing you quick tips for maintaining a balanced diet, staying active, and being mindful during the holiday season.
Try not to restrict. It's easy to get overwhelmed with the number of food choices we have over the holidays. Enjoy your favourite foods in moderation. Labelling foods as "good" or "bad" can lead to feelings of guilt, which takes our focus away from truly enjoying a meal. There are many ways to optimize your nutrition without completely limiting those special treats that only come around once a year. Tip 1: Use a smaller dinner plate to prevent overeating (we all know that post-meal food coma). Tip 2: For dessert, opt for a slice of pie with Greek yogurt instead of sweet whipped cream or ice cream. Small changes can make a difference!
Load up on vegetables during the main course. Start filling your plate with vegetables before your protein or starches. Aim for half a plate full of vegetables, and then add the turkey, mashed potatoes, and stuffing. Vegetables provide us with vitamins, minerals, and fiber to keep us full. Being selective with your food choices also draws attention to portion control. Tip: Imagine your plate divided into four sections, and make sure you fill two of those sections with your favourite veggies.
Be selective with your choice of beverage. Enjoy your drinks in moderation and be mindful of high-sugar and high-calorie content (in apple cider, eggnog, wine or liquor). Stick to a guideline of no more than two standard drinks per occasion and alternate alcoholic drinks with water to stay hydrated. Tip: Choose low-calorie beverages that still satisfy your craving, such as club soda with lime, or frozen cranberries.
Stay active, any way you can. We all know how busy the holidays are, but it's still important to find time to be active. Aim for 30 minutes a day, doing what you enjoy the most. Maybe that's a walk before or after dinner, skiing, ice skating, or even making a snowman. Exercising reduces stress, gives us energy, and can improve sleep. Tip: Try a new activity this year and get the whole family involved.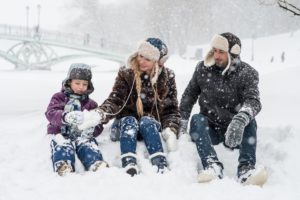 Practice mindfulness. Mindful eating is about eating with intention and attention. It can be difficult to slow down amid our fast-paced lives, and truly appreciate how we nourish our bodies; eating with a mindful attitude is a great way to remain aware. Chew your food slowly and pay attention to satiety cues so that you eat just until you are satisfied. Mindfulness can be also be applied to your environment; it's not all about the food! The holiday season is a time to cherish loved ones, watch festive movies, and celebrate what's important to you! Tip: To practice mindfulness, concentrate on your breath as you inhale and exhale. Repeat five times and notice how this makes you feel. Simple breathing exercises performed daily can help keep your mind clear, improve focus, and help to manage stress.
What makes the holidays the most wonderful time of the year for you? Being mindful during the holiday season is a wonderful way to prioritize your health without compromising a little indulgence. It's a time to strive for balance and prepare for the new year ahead. If you're trying to make a resolution you'll stick to, read our blog post about non-dieting resolutions! Share your holiday thoughts and New Year's Resolutions in the comments below.