Written by Erika Martin BSc Nutrition Candidate
Reviewed by Andrea Miller MHSc, RD
With the hustle and bustle of our busy lives, it can be difficult to find the time or energy to prepare wholesome meals, on a regular basis. There are many ways to save time and stay organized in the kitchen. Kitchen "hacks" are popping up all over the internet, showing innovative ways to organize kitchen storage spaces and simplify otherwise time-consuming aspects of meal preparation. To save you some more time, we have compiled our top 10 kitchen hacks that you can implement to be more efficient, save some money and hopefully motivate you to try something new.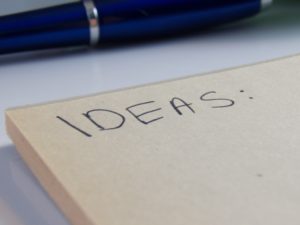 Peeling hard-boiled eggs
Hard-boiled eggs are a great protein-packed food that can be added to salads, paired with some fruit or taken on the go. As great as they are, peeling them can be a chore. Here's the hack: add about 1 inch of water into a mason jar, along with your boiled egg. Place the lid on the jar, then shake for about 5-10 seconds, or until the shell is removed. When you open the jar, you will have a clean hard-boiled egg that is ready to go.
Peeling garlic
Garlic is a great way to add flavour to any savoury meal but can sometimes be difficult to peel. While there are alternatives such as garlic powders and pre-chopped garlic, there is no question that fresh tastes best. Luckily, there is a quick and easy way to do this. Here's the hack: again, using a mason jar, place your desired amount of garlic inside and seal the jar. Shake vigorously for about 15 seconds. When you pour the cloves out, the skin will be separated and easy to quickly remove.
Storing carrots and celery
Celery and carrot sticks are inexpensive vegetables that make a great nutritious addition to any snack. The problem is that they often sit in the fridge rather than get eaten, because it can be time consuming to peel and cut them up before every snack. The solution is to prep them in advance. Here is the hack: after heading to the grocery store, wash and peel all carrots and celery and cut them into snack-sized sticks. Keep them in a container filled with water to prevent them from drying out or wilting. You will be more likely to grab these snacks now that they are conveniently ready to go!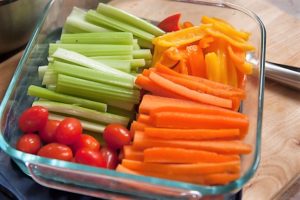 Ready-to-go oil and herbs
The best start to any good meal is some oil with a nice herbal base. While dried herbs are always an option, fresh herbs make all the difference. Whether you have your own herb garden, or prefer to buy fresh herbs from the store, herbs often wilt before you get the chance to use them. Here's the hack: wash herbs that have not yet wilted or browned and pat them to dry. Choose your favourite herb or herb blend, and chop or mince them – depending on your preference. Place herb mixture into a clean, dry ice cube tray, making sure not to overfill the trays. Top the herbs with your favourite cooking oil, and place in the freezer with plastic wrap. The result will be individual cubes that are ready to add to any stovetop dish.
Easily store measuring cups
Measuring cups and spoons are a necessary tool for most baking, but can also be a great way to keep track of portion sizing when preparing more common meals and snacks. Keep them handy by organizing them in a more accessible way. Here's the hack: go to your local hardware or dollar store to pick up a few command hooks. These can be easily placed in rows on the inside of your pantry cupboards or on a wall near a counter. Place enough hooks for each measuring cup and spoon, so each one has its own place.
Easy potato wedges
White potatoes or sweet potatoes are an easy staple for any meal. They are great roasted with some herbs and light oil. The problem is that sometimes in can be a chore to cut them into pieces for roasting while keeping them all the same size. Here's the hack: using an apple cutter, placed your washed and peeled potato (or unpeeled, depending on your preference) into the apple cutter like you would an apple. You will instantly have uniform sized potato wedges in one easy motion. For smaller pieces, cut the slices into thirds.
Keep cut avocados from browning
Avocados contain heart-healthy fat and can used for guacamole, on top of toast with some salt and pepper, in salads or as a sandwich topper. Quite often, we tend not to need the whole avocado at once, leaving us with half an avocado that will inevitably brown quickly in the fridge, and go to waste. Here's the hack: instead of simply storing your avocado half in a container, submerge it in water inside the container. This will keep as much oxygen from touching it as possible, which causes the browning reaction to happen, and extend its storage by an extra 1-2 days.
Freeze leftover bananas
Sometimes it can be hard to eat a full bunch of bananas before they go brown, and they end up going to waste. While you may consider keeping them to the side to make a banana bread, there are other ways to put bananas to good use. Here's the hack: if you can catch the bananas just before they start to brown, you can peel and cut them into smaller pieces to be frozen. Keep them in a large freezer bag, and use them any time in smoothies or home-made banana ice cream.
Individual snack storage for kids
Parents and kids are often looking for snack ideas. This tip will not only give kids quick access to a healthy snack, but also keep things fair between kids by pre-designating their snacks for the week. Here's the hack: Grab a few plastic drawers (pictured below) from your local kitchen or dollar store. After grocery shopping, divide snacks into equal amounts for each of the kids, putting them into their own labelled drawers. You can have one in the pantry or on the counter for pantry snacks, and one in the fridge for items that need to be refrigerated.
Easy shredded chicken
Shredded chicken is quick and easy to add to pastas, salads and sandwiches and can be made in advance and stored in the fridge. While it is a simple protein to grab and use, the actual shredding with forks can be time consuming and a hassle. Luckily, there is a much easier way to do it in no time. Here's the hack: place your fresh cooked chicken breast in a bowl, and shred it using a hand mixer on low-medium speed. A bonus tip: cook the chicken in a slow cooker or deep pan and use the hand mixer directly in pot, to incorporate all of the juices from cooking.