We welcome our newest student volunteer, with this blog post.
Please join us in welcoming Sharon Charles BSc Nutrition candidate, to our team
Reviewed by Andrea Miller MHSc, RD
As the leaves begin to transform into bright colorful shades, so does the produce that is beautifully displayed at local farmer's markets! There are so many benefits to eating foods from the farmer's market, some of which we will explore!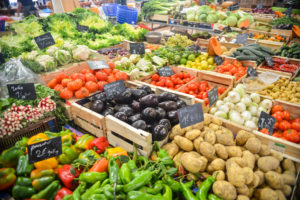 The Benefits of Eating Locally
If you haven't been to a farmer's market lately, the fall season is the best time to go, as there are so many colorful vegetables and fruits that will have your mouth watering! There are many benefits to shopping at the farmer's market some of which include:
Meet the people who grow the produce – The farmers market is the best place to support your local farmers and to bring home some of the freshest (and tastiest!) produce. By shopping at the local farmer's market, you are helping farmers and their families and rewarding their hard work. If you strike up a conversation with one of the vendors, you will find them to be very knowledgeable and willing to answer any questions.  Some of the things you might want to ask the vendor about, include: how they take care of their land, where their farm is and what else they grow. Don't miss out on the wealth of knowledge they have to offer you!
The freshest seasonal produce – Since most of the produce brought to the farmer's market is fresh and in season, it is at it's peak of flavor and nutrients. In fact, you may find that fresh produce tastes quite different from the same food found in the grocery store.
Exposure to a variety of different foods – Browsing through the farmer's market exposes you to a variety of different food that you may not be familiar with. Playing with the unexplored potential of these foods will likely broaden your palate and in return, nourish your body with the different nutrients found within each food. Tips and Tricks for a Day at the Farmer's Market:

The early bird gets the worm – If you are looking for the freshest produce and would like some more time to browse through your options before the market becomes busy, it is best to go early.
Cash is king – Bring cash to make the purchasing process easier on yourself and the vendor!
Reusable bag – Bringing a reusable bag helps both the environment and yourself. Reusable bags usually can fit heavier items in comparison to plastic bags.
Browse before you buy – When you get to the market, take a quick lap around to see what each vendor has to offer before you make your purchases. In doing so, you will know which produce to buy at which vendor for their freshness and price.
Buy the heaviest items last – Purchasing the heaviest items on your list, last will save you the trouble of hauling them around the market and allow you to enjoy the farmers market experience at its peak.
Thank the vendors! – Recognize that the farmers are at the forefront in cultivating, caring, growing, and picking out the produce that is beautifully displayed before you. A simple thank you goes a long way!

 Our Picks of the Produce:

A variety of colors and shades of produce is not only aesthetically pleasing to the eye but does wonders for your body in terms of the different nutrients that are found all along the color spectrum. During your trip to the farmer's market, here are the top produce picks, to look out for to grace your dinner table.

Apples: What reminds you of fall more than a warm slice of fresh homemade apple pie! Apples can be enjoyed as a delicious snack on their own or added to salads, made into crispy treats or used to make delicious homemade apple sauce. Ensure that you eat the apple with the skin on to retain the maximum nutritional content that each delicious fruit has to offer you.

Beetroot: These sweet and savory deep red delights offer a kick to any meal. High in iron, fiber and a plethora of other nutrients, you would not want to miss out on the nutritional content of these vegetables that can be easily spotted at the market.

Zucchini: This gorgeous summer squash is as versatile as it is scrumptious! You can slice it up for a veggie platter, grill it, or add it to a sandwich. If you have a spiralizer on hand, try making zucchini noodles which is a healthy alternative to pasta.

Pumpkins: Pumpkins aren't meant to be reserved just for carving on Halloween.  The fiber, potassium and vitamin C that a pumpkin offers can easily be incorporated into meals to add a bit of extra flavor and depth.

There are many more fall produce options, so a trip to the farmer's market can reveal all of the fresh produce waiting to be embraced. Be sure to check out your local farmer's market soon!