By: Dianna Yanchis, BSc (Nutrition)
Reviewed by Andrea Miller MHSc, RD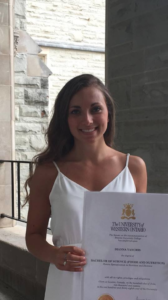 My passion for nutrition began in high school as a competitive volleyball player. I became very interested in sports nutrition, specifically, how to properly fuel your body to improve energy and performance levels. During university, I began volunteering with Andrea, writing nutrition blog posts. Andrea has been an incredible role model and her knowledge and dedication to nutrition practice is both impressive and inspiring. Through my volunteer work I was able to develop many skills that would allow me to succeed in the profession of dietetics. This experience further emphasized my desire to share my knowledge of nutrition to better the lives of others.
As a nutrition student, my goal while completing school was to become a Registered Dietitian. To do so, I needed to be accepted into an internship or Master's program. After four years of hard work, late study nights, and countless hours of volunteering, I began my Dietetic Internship at The Hospital for Sick Children.
During my internship, I completed rotations in different areas of the hospital, including cardiology, the neonatal intensive care unit, nephrology, and diabetes to name a few. I worked closely with dietitians to provide children with appropriate nutrition to support their recovery as well as their growth. Not only did this include information about which foods to eat, but other forms of nutrition support, including those that are used when a child is unable to eat orally. This included initiating nutrition that would be administered through an IV or through a feeding tube. I also had the opportunity to complete a major research project on the use of growth charts to monitor the growth of infants and children with Down Syndrome.
The internship provided excellent practical experience and was an extremely valuable learning opportunity that I will never forget. It was definitely challenging.  However, I would not trade it for anything. I developed wonderful friendships with my fellow interns and found the staff and management extremely helpful and supportive. Once I become an experienced RD, I hope to pay it forward by supporting future interns.  Through this experience I have found my interest lies in clinical paediatrics and I look forward to contributing to the profession. This was an amazing learning experience. I am very excited to begin my career as a Registered Dietitian.
Thank you
We would like to congratulate Dianna on the completion of her internship, and we look forward to hearing about her final steps to becoming a registered dietitian. We value and appreciate all of the work she has done with us. She will make a wonderful RD and will be an asset to the profession.