Written by Erika Martin BSc Nutrition Candidate
Reviewed by Andrea Miller MHSc, RD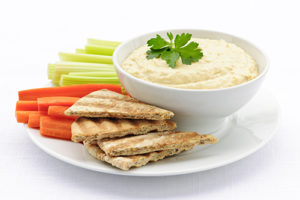 Snacking is something we all do – and it is something that we enjoy and look forward to! Read on to learn more about the benefits of snacking and how you can optimize your snack choices.
Benefits of Healthy Snacking
Snacks are a great opportunity to:
Add extra nutrients to your diet – This one is simple; the more nutrient-dense foods we eat, the closer we get to meeting to our recommended daily nutrient intake based on Canada's Food Guide. Incorporating a few snacks into our day gives us more opportunities to do this.
Help us choose smaller, healthier meals – While getting more nutrients, snacking also helps keep us fuller for longer between meals. Without feeling extreme hunger at the next meal, we are more likely to choose smaller serving sizes, while making healthier choices.
Keep energy levels up between meals – Grabbing a quick bite between meals keeps blood sugar levels from dropping too low, helping us feel more energized. This is also beneficial for concentrating at work or in class; the less tired we feel, the more capable we are to get quality work done.
Stop us from buying "junk" foods at work or school – Keeping a pre-planned healthy snack within reach (in our desk, purse, backpack etc.) limits the need to go out and buy convenience foods when hunger strikes. By planning ahead, hunger and cravings can be solved without eating junk foods that are often high in salt, fat and sugar.
When Should I Snack?
The best time to incorporate a snack is 2-3 hours after your previous meal, when blood sugar levels are typically dropping. Aim for a mid-morning and mid-afternoon snack, daily.
What Should I be Snacking On?
The key to effective snacking is pre-planning with the right guidelines in mind. In order to keep us satisfied and remain healthy, a successful snack should have:
3-5 grams of fiber
5-15 grams of protein
It is helpful to snack on crunchy foods – they tend to be more satisfying than softer foods:
Celery sticks with hummus, peanut butter or cream cheese for protein
Apple slices with peanut butter or a piece of cheese
Roasted chickpeas and whole grain crackers
Nuts and seeds, with a piece of fruit
Whole grain crackers with cheese, hummus or tuna
Carrot sticks with hummus or veggie dip
Eating smaller pieces of food can make us feel like we are eating more:
Slice apples rather than eating them whole
Grapes
Berries (blueberries, strawberries, raspberries, blackberries etc.)
Nuts
Cherry tomatoes
Air-popped popcorn
For a more hearty snack:
Plain yogurt with fruit
A fruit smoothie, made with yogurt
A slice of whole wheat flatbread with hummus
A slice of whole wheat toast with peanut butter
A boiled egg with whole grain crackers
Soup with beans, or lentils and veggies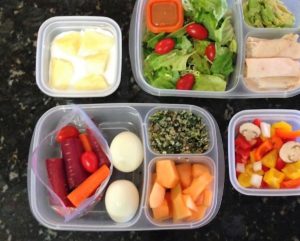 More Healthy Snack Recipes:
Make your own hummus
Try these energy balls – a sweet, healthy treat!
5 simple no-cook snacks
Crunchy, oven roasted chickpeas
Mason jar snacks to go
Smoothies to satisfy your sweet tooth